Hydraulic Shock Tube For Architectural Testing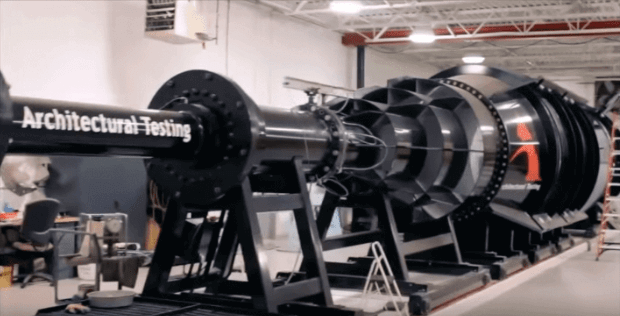 Safe, Effective Simulation Testing for Blast Resistance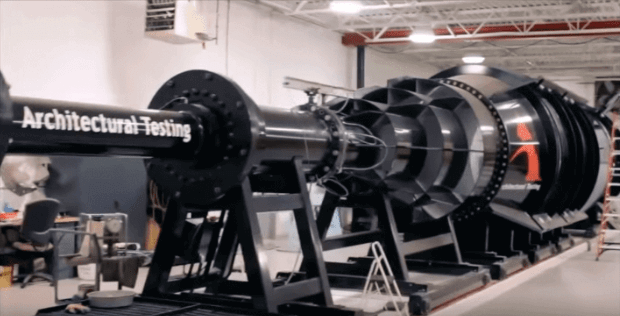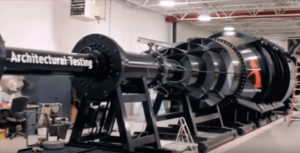 It's called a Shock Tube, short for Shock Tube Blast Load Simulator. Its rocket-like shape resembles something you might see at NASA. Designed by Architectural Testing, now Intertek, the Shock Tube allows building product manufacturers from around the country find out whether their products can withstand the shock wave from a blast event, such as an explosion.
On the Shock Tube, a Bear-Loc® secures safe, effective operation. A piston moves to create the desired pressure and the Bear Loc, which is the middle section in the photo, holds it in position.
Travis Hoover, Intertek's manager in charge of the Shock Tube, explains how it works. "We're testing the ability of a product to withstand blast load effects of the positive and negative phases of a shock wave. Simply put, for a building window, let's say a bomb was detonated outside of a building, the positive phase effect is the pressure attempting to push into the building window. As pressure relieves in the building, the negative phase effect is trying to pull the window out of the building." The blast simulation itself in the Shock Tube is created using compressed air. Some of the products tested by Intertek in the Shock Tube include: laminated glass, blast curtains (facades), skylights, anchoring systems, doors, louvers, and wall systems.
York Precision General Manager Dennis Goulden recalls meeting with a former executive of the company (now retired). "He flew all over the world trying to find a locking actuator that actually locks and does not move. He found us right in his back yard, so to speak. He said to me, 'You're the only one in the world, do you know that?'"
Travis Hoover observes that the Shock Tube's original Bear-Loc from 2008 is in place and works well for their needs, with no issues.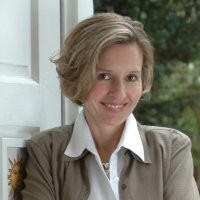 Michele McKnight Baker holds a PhD in Organizational Studies and serves as Business Manager for York Precision Machining & Hydraulics, LLC, York, PA. She has published numerous business articles in regional and national publications. Dr. Baker is also the author of Sandpaper Sisters (commercially published, non-fiction) and Civil War era SOLDIER'S HEART,  her first novel. She has consulted with not-for-profits and for-profits, including Fortune 500 companies, as President of Cultureconnects/BMC.